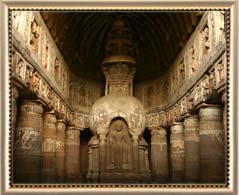 Duration -
05 Nights / 06 Days
Destinations Covered -
Mumbai - Aurangabad - Mumbai
Ajanta Caves
Seated deep inside the Sahyadri hills of Ajanta in Maharashtra state of India, you will find near about 29 Ajanta caves. These Ajanta caves are ancient dating way back to the time of 200 BC to 650 BC and hold the honor of being labeled one of the world heritage sites. A special feature about these Ajanta caves is that the paintings on its walls narrate stories about Buddhism during its evolution phase. Cave number 8, 9, 10, 12, 13 and 15 belong to the Hinayana sect of Buddhism, whereas cave number 1, 2, 16, 17, 19 and 26 are associated with the Mahayana sect.
Ellora Caves
The Ellora caves were carved out of rock between the time period 350 AD to 700 AD and total up to about 34 in number. These caves correspond to the three religions of Hinduism, Buddhism and Jainism. Of these 34 Ellora caves, 12 caves (from number one to 12) belong to the Mahayana sect of Buddhism. Another 17 caves (from number 13 to 29) belong to Hinduism, whereas the rest five (from number 30 to 34) stand for Jainism. However, it is caves 10, 11c and 12 comprising Hindu temples, which are most popular. Kailasa temple in cave number 16 is also worth a visit.
Day 01 - Arrival at Mumbai
You will be cordially received by our representative upon your arrival at the Mumbai airport or railway station and then transferred to your hotel. The financial capital of the country and also home to India's thriving Bollywood film industry, Mumbai is one lively city that never seems to nap. Accommodating both glitzy malls alongside modest roadside inns, Mumbai will offer you wonderful panorama of sounds, sights and smells upon your visit here. For today, you check in to your hotel and unwind. Take a stroll around to get a feel of the place in the evening. Night stay will be at the hotel in Mumbai.
Day 02 - Mumbai - Aurangabad
Relish a sumptuous breakfast at the hotel in the morning. Thereafter, you can choose to explore the local markets in Mumbai for a short while. After this, you will be taken to the airport to catch a flight to Aurangabad, which is where the world famous Ajanta Ellora caves are located in Maharashtra. Upon arrival here, check in at the hotel. Infact, there is another set of equally popular caves known by the name of Aurangabad caves here. Overnight stay is at Aurangabad.
Day 03 - Aurangabad
After you get up, you have a hearty breakfast at the hotel. After this, you leave for a full day tour of the renowned Ajanta caves here. When you have explored the Ajanta caves to your heart's content, you will be transferred back to your hotel in Aurangabad. You spend the night at Aurangabad.
Day 04 - Aurangabad
After you have had breakfast, you will depart from your hotel to see the Ellora Caves, Daulatabad Fort and the Aurangabad Caves today. Daulatabad Fort that dates back to the medieval time period is situated atop a hill, whereas Aurangabad caves which display Tantric influences in its architectural designs and arts are located just on the outskirts of the Aurangabad city. You will spend the night at Aurangabad.
Day 05 - Aurangabad - Mumbai
You will have your breakfast at your hotel and transferred to the airport to board a flight to Mumbai. Once you reached Mumbai city, you check into your hotel here. You rest for sometime and then leave for a tour of the distinguished Elephanta caves. Upon returning, you leave to see the important tourist hotspots in Mumbai in the second half. Night stay is at the hotel in Mumbai.
Day 06 - Mumbai - Home / Onward Journey
This is the final day of your Ajanta Ellora tour. You get up and have breakfast at the hotel you are boarding. Later on, you will be transferred to Mumbai international airport where you board a flight back home or for your onward journey to the next destination from here.