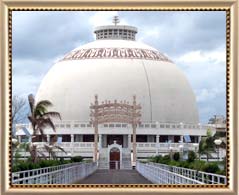 Nagpur is one of the most important cities of Maharashtra and is considered as its second capital. It also serves as the commercial & political center of the Vidarbha region in the state. Infact, every year, the 'Winter Session' of the Maharashtra Legislature takes place in Nagpur only. This makes the city quite significant from business point of view and many people travel here on a frequent basis for business purposes. It also serves as the headquarters of the respective administrations of Nagpur District and Nagpur Division.
Along with that, Nagpur is also important from tourism point of view. It has a number of tourist attractions to offer to its visitors, coming from various parts of India as well as abroad. They include Balaji Mandir, Ambazari Lake, Sitabuldi Fort, Maharaja Baug, etc. Along with that, it serves as the base for the nature lovers, looking to visit the numerous wildlife sanctuaries and natural parks situated in and around the Nagpur district. The strategic location of the city, almost in the heart of the India, further adds to its importance.
Nagpur is also known throughout the world for being a major production as well as trade center of excellent, high-quality oranges. This has resulted in it being given the name of Santra Nagari ('Orange City' or the 'City of Oranges'). From tourism point of view, the best time to visit the city comprises of the months of October to march. During this time, the weather conditions are at their very best. So, come and explore the tourist treasures offered by the 'Orange City' of and you can easily roam around the city India.