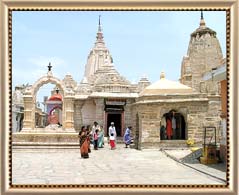 Ramtek is a small town, situated at a distance of approximately 42 km to the northeast of the Nagpur city of Maharashtra. It falls under the Nagpur district and is held in high regard by the Hindus. This is because this town is believed to be associated with Lord Rama. There is hill situated near Ramtek, known as the Ramgiri Hill. The hill houses a historical temple of Lord Rama, which is said to be more than 600 years old. This temple has greatly added to the travel attraction of the city.
The legend also goes that Lord Rama stopped at Ramtek, along with His wife Sita and brother Lakshmana, while on his exile. Another fact that adds to the attraction of the town, from tourism point of view, is its association with the Great poet Kalidasa. He wrote his excellent poem, Meghdoot in the hills of Ramtek only. Infact, it is often said that it was the beauty of Ramtek Hills that inspired him to write the poem. The town was also the constituency from where Late Indian Prime Minister Narshima Rao fought his election.
The major attractions of Ramtek comprise of the 27 Brahmanical style temple that have been constructed atop the hill. Amongst them is the Lakshmana Temple, which dates back to as far back as 1400 AD. The town serves as the venue of the Kalidasa Festival, held every year in the month of November. A fortnight-long festival, it boasts of performances by virtuosos in the field of music, dance and drama. Ramsagar Lake, a serene lake, and the Jain temple situated here are also worth having a look at.