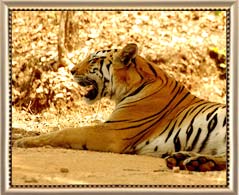 Nagzira Wildlife Sanctuary is situated at the Tirora Range of Bhandara Forest Division, which comes under the Bhandara District of Maharashtra. It is approximately 130 km to the west of Nagpur and makes one of the popular excursions from the city. The sanctuary serves as the perfect place for all those who love to explore nature and its various facets. Bird and animal lovers will find a visit to the Nagzira Wildlife Sanctuary, one of the best ways to spend their weekends.
Situated away from the air and noise pollution of the cities, the sanctuary usually forms a part of the itinerary of those visiting the Nagpur city of Maharashtra. Here, you will be witnessing some of the rarest as well as most exotic species of wild animals as well as birds, roaming freely in their natural habitat. The scenic locales and mesmerizing setting of Nagzira Wildlife Sanctuary of India further adds to its attraction. The hills surrounding it seemed to be carpeted with greenery, while the valley and gorges simply take away your heart.
Flora and Fauna
The landscape of Nagzira Wildlife Sanctuary comprises of hills and small lakes. The forests covering the hills comprise of the southern tropical dry deciduous trees. The wildlife seen at the wildlife sanctuary includes 34 species of mammals, 36 species of reptiles and 4 species of amphibians. The wild animals found here consist of Tigers, Panthers, Leopards, Bison, Sloth Bears, Sambar Deer, Four-Headed Antelope, Blue Bull, etc.
The other wildlife attractions of Nagzira Wildlife Sanctuary comprise of animals like Chital, Barking Deer, Mouse Deer, Civet Cats, Jackals, Jungle Cats, Spotted Hyena and Hare. The birds seen nesting inside the premises of the sanctuary, include Peafowl, Grey Jungle Fowl, Red Spur Fowl, etc. You can also hope to see invertebrate creatures like ants, insects and beautiful butterflies in the Nagzira Wildlife Sanctuary.