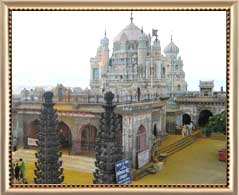 Jejuri Temple is located in the Jejuri town, which lies to the southeast of the Pune city of Maharashtra. The town is known for being the venue of one of the revered temples in the state, known as the Khandobachi Jejuri. The temple is dedicated to Khandoba, also known as Mhalsakant or Malhari Martand. Khandoba is regarded as the 'God of Jejuri' and is held in great reverence by the Dhangars, one of the oldest tribes in India.
Jejuri Temple is situated atop a small hill and because of this height; one has to climb a series of almost 200 steps to reach the sanctum sanctorum. Since the climb is not too difficult and offers amazing views of Saswad and Dive Ghat, one doesn't even come to know when the 200 steps come to an end. Jejuri Khandoba Temple can be easily divided into two separate parts - the Mandap and Gabhara.
The idol of Shri Khandoba enshrined inside the temple is simply beautiful. There are three weapons housed in Jejuri Temple, a sword, a damaru and a paral. They are very exquisite and also have historical importance attached to them. A Sword Competition is held every year at the temple, on the occasion of Dusshera. The one who lifts the sword of the temple high up, for the maximum time, is declared the winner.