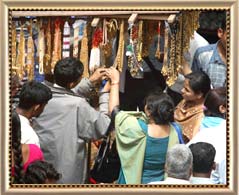 Being one of the metropolitan cities of India, Pune is visited by tourists, business travelers and students throughout the year. Many out of them turn out to be shopping lovers too, who look for things to buy for themselves as well as to take back home as souvenirs. One thing is for sure, shopaholics wouldn't regret coming to the city. There are so many shopping places in Puna that you will tire out from visiting them.
The shops in the city have almost everything and there will hardly be any item that you wouldn't get here. Right from branded items to the one available on roadside stalls, you can get anything here. In case you go for the latter, make sure to do a lot of bargaining. The variety of shopping items, which comprises of clothes, shoes, accessories, etc, is also amazing. You can even get exquisite handicrafts from different cities of Maharashtra here.
Shopping Markets in Pune
Deccan Gymkhana
Deccan Gymkhana is one of the popular shopping markets of Pune. It basically comprises of shops selling suiting, shirting, toys, steel and plastic articles, embroidery items, etc.
Laxmi Road
Laxmi Road Market, comprising of narrow side streets and by-lanes, has a number of clothes shops and jewelry stores.
Bajirao Road
Bajirao Road is the furniture market of Pune. Apart from furniture stores, it also has garments shops and shops selling presentation articles.
Mahatma Gandhi Road (M.G. Road)
Mahatma Gandhi Road, famous as the M.G. Road, has shops selling gift items and other such articles.
Fashion Street
Fashion Street is one of the posh markets of Pune, developed on the lines of Mumbai's Fashion Street. It has as many as 450 stalls and serves a multitude of shopping needs, right from clothes to footwear.
Tulsi Baug
Tulsi Baug is known for showrooms that sell mainly women's items. Along with that, you can also buy gift items, household items, metal ware, etc.
Other Markets