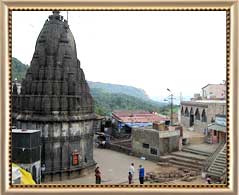 Bhimashankar Temple is situated in Maharashtra and claims the distinction of being one of the twelve Jyotirlingas in India. Lying at a distance of approximately 128 km from the Pune city, this temple is dedicated to Lord Shiva, one of the Hindu Trinity of Gods. Infact, it is believed that it is the place where Lord rested after the Tripurantaka samharam i.e., the annihilation of Rakshas Tripurasurag. Even the Bhima River flowing near the Bhimshankar Jyotirlinga is said to having a story behind its formation.
Enshrined inside the complex of the Bhimashankar Temple is a Shiva Lingam, which is approximately 1.5 feet in length. Apart from the lingam, the temple also enshrines Goddess Kamalaja. The Goddess is worshipped by the devotees, with as much reverence as Lord Shiva. The complete legend associated with the temple goes somewhat like this. It is said that King Kamrupeshwar, the king of Kamrup, was a very ardent devotee of Lord Shiva. One day, a demon appeared in his kingdom and started troubling his subjects.
The demon also tried to kill King Kamrupeshwar with his sword. However, he missed the target and the sword feel on the Shiva Lingam worshipped by the king. As soon as this happened, Lord Shiva appeared at the site and killed the demon. It is believed that after killing the demon, Lord's sweat drops fell to the ground and were transformed into a stream. The stream later got converted into the Bhima River. Being situated close to the river, the temple also came to be known as the Bhimashankar Temple.
Today, this temple is visited by devotees from far and wide. Not only is it a popular pilgrimage for the Shiva devotees, but also one of the most magnificent spots in the whole of Maharashtra. For the adventure enthusiasts, Bhimshankar offers a number of excellent trekking trails. There is also a wildlife sanctuary situated in its vicinity, where you can hope to see a wide variety of birds, animals, flowers, plants, etc. Bird watchers find this place virtually a haven for birds. So, whether you are a devotee or a nature lover or an adventure buff, Bhimashankar is definitely the place for you!