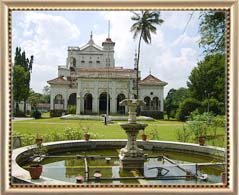 Pune is known by a number of names, like the 'Cultural Capital of Maharashtra', the 'Oxford of the East', the 'Oxford of India', etc. It is visited by a large number of people every year, who come here for a variety of purpose like business, sightseeing, study, etc. Whatever be the reason for the visit, all of them make sure to go on sightseeing tours of the city that has so much to offer in terms of tourist attractions. Right from temples to churches to museums to gardens, Puna has it all. In this article, we have covered the major tourist places to be seen on a tour of the Pune city.
Aga Khan Palace
Aga Khan Palace is one of the most magnificent monuments of Pune, situated in the Yerawada area. The palace dates back to the year 1892 and was constructed under the patronage of Sultan Mohammed Shah, Aga Khan III. There was a noble cause behind its construction.
Empress Garden
Empress Garden of Pune is situated near the Pune Race Course, adjacent to the Pune-Solapur Road. A huge garden in terms of area, it spreads over approximately 59 acres. The garden is more or less, a botanical park that boasts of being home to a number of varieties of fruit bearing trees.
Mahatma Phule
Museum Mahatma Phule Museum of Pune dates back to the year 1890, when it was established by the name of 'Lord Ray Museum'. It is located in the Shivaji Nagar of the city, on the Ghole Road. In the 19th century, India was gripped by a museum culture.
Raja Dinkar Kelkar Museum
Raja Dinkar Kelkar Museum is one of the finest museums in the Pune city. It is situated in Shukawar Peth, on the Bajirao Road. The museum is now under the ownership and control of the Department of Archaeology, Government of Maharashtra.
Katraj Snake Park
Katraj Snake Park is one of the popular conservation parks of India, situated on the Pune-Satara Highway. It is known for housing a significant population of snakes, birds, turtles, reptiles, etc. Situated at a distance of approximately 8 km from the Pune city of Maharashtra, the park was established in the 1986.
Tribal Museum
Tribal Museum is situated on the Queens Road, in the Pune city of India. The museum is dedicated to the various tribes living in the state of Maharashtra. It endeavors to showcase the lifestyle as well as the cultures of the tribal people.