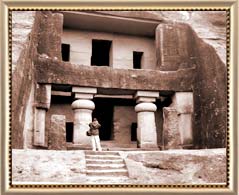 Kanheri Caves, forming one of the most popular excursions from Mumbai, are situated inside the forests of the Sanjay Gandhi National Park of Maharashtra. They lie on the western outskirts of the city, to the north of Borivali. The name, 'Kanheri', has been derived from the Sanskrit word 'Krishnagiri', which means 'black in color'. The reason for this name is that Kanheri Caves were carved out of a gigantic piece of basaltic rock.
The caves, which are approximately 109 in number, have been founded to date back to somewhere around 1st century BC to 9th century AD. Some of them are nothing more than rock-cut cells, chiseled into the hillside. Kanheri Caves are believed to signify the Golden Age of Buddhism, when it was flourishing and at its peak in India, as well as the days of its waning. These caves do not have much embellishment and are mostly plain and unadorned.
In each of the caves, one finds a stone plinth that most probably served as a bed for the inhabitants. There is a stupa inside the congregation hall, which stands adorned with huge stone pillars. The remnants of an ancient water system, canals and cisterns, above the hill, indicate the advancement of rainwater collection during that time. The rainwater was collected from these cisterns and channeled into huge tanks.
Most of the caves situated at Kanheri comprise of the Buddhist viharas, which were used for the purpose of living, study, and meditation. Amongst these, the larger ones were meant to serve as chaityas i.e. congregational worship halls, where one can see beautifully chiseled Buddhist sculptures, reliefs and pillars. There are also stupas there, cut out of rock and used for the purpose of worship. Of the images seen there, the most unique is that of Avalokiteshwara.
Carved at the top of the caves are exquisite sculptures of Goddess Tara and Goddess Bhrukti. The central structure of Avalokiteswara has five symbols in both the hands, right as well as left. Since there are a large number of viharas in Kanheri Caves, it is suggestive of the fact that even during that time, well-organized establishments of Buddhist monks existed. From the site of the Kanheri caves, over 100 inscriptions in Brahmi, Devanagari and Pahlavi scripts have been found.