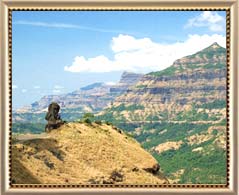 Malshej Ghat, that forms a part of the Western Ghats of India, falls under the Pune district of Maharashtra. Perched amongst the ghats, at an altitude of approximately 700 m above sea level, the tourist spot can be visited throughout the year. However, the monsoon season forms one of the best times to visit the Malshej Ghat. This is because during this time, the entire hill resort seems to be covered in the shade of mint green, with its locales presenting a very pristine and beautiful sight.
Infact, during the months of August and September, the weather is also at its best - being neither warm nor cold. It is that time of the year when the cascading waterfalls flow with ice cold water. In the winters, the misty surroundings of the Malshej Ghat add to its splendor. Apart from its breathtakingly beautiful landscapes, the hill resort is also known for its rich and varies fauna. Bird lovers residing in the nearby area make it a point to visit Malshej Ghat, to see its rich avian population, comprising of Quails, Rails, Crakes, Flamingos, Cuckoos, etc.
The adventure lovers, especially trekkers and hikers, will find the hill resort a blessing. The unending expanse of rolling hills provides them with the perfect opportunity of undertaking long treks. Whether they want to go uphill, scaling the peaks of the hill, or downhill, exploring the intricate jungle paths, they wouldn't get disappointed here. One of the must-see places in Malshej Ghat is the Shivneri Fort, the birthplace of Chhatrapati Shivaji - considered to be one of the greatest rulers of Maharashtra.
Apart from its attractions, another feature that attracts tourists to this hill resort is its undisturbed peace and solitude. Unlike most of the other hill stations in India, Malshej Ghat is not visited by tourists in too large numbers. So, if you want to escape from the exasperating hubbub of city life, this hill resort is just the place for you. It is well connected with the cities like Pune and Mumbai and you will hardly face any difficulty in reaching here. As far as accommodation is concerned, the resort run by Maharashtra Tourism Development Corporation (MTDC) will serve as the perfect solution to your problem.