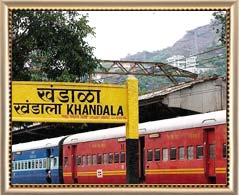 Khandala is one of the most popular hill stations of India, situated near the cities of Mumbai and Pune. It makes an excellent getaway destination from both the cities, providing people with the perfect place to take a break from the tensions that have become so much a part of the city life. Situated amidst the Sahayadri ranges of Maharashtra, the hill resort can easily be reached, by air, by rail as well as by road. Pune serves as the nearest road link as well as air base for reaching Khandala. So, you will not face any problems while traveling to this place. Read on to know how to reach Khandala.
By Air
The airport that lies nearest to Khandala is that of Pune, connected with all the major cities of India by direct flights. It is situated at a distance of around 65 km from the hill station. The next nearest airport from Khandala is Mumbai, which is about 101 km away.
By Rail
Khandala hill station falls on the main railway line between Mumbai and Pune. Each and every express train that plies between the two cities makes a stoppage here. Lonavala railway station is also situated quite nearby.
By Road
Regular buses ply between Lonavala and Khandala, at an interval of 15 minutes. Apart from that, one can easily get buses as well as taxis, from Khandala to Mumbai and Pune. By bus, it takes approximately 2 hrs from Pune and 4 hrs from Mumbai to reach here.