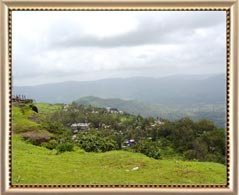 Panchgani is a picturesque hill station of India, situated at a distance of approximately 18 km from Mahabaleshwar. It is one of the most preferred weekend destinations for the people living in Mumbai and Pune. Infact, travel and tourism is one of the main industries on which the livelihood of the residents of Panchagani is based. The hill resort serves as the perfect destination for the adventure lovers, to indulge in sports like trekking, since it is perched at an altitude of approximately 1334 m above sea level.
'Panchgani' derives its names from the five (paanch) hills that provide the perfect background to its scenic location. The hill station falls under the Satara district of Maharashtra and is easily accessible from the Mumbai city. The 18 km long stretch that leads one from Panchagani to Mahabaleshwar is simply beautiful. Throughout the way, Krishna River, wandering through farms, ravines and hamlets, serves as your perfect companion. On the other side of the hill, you will find the coastal plains luring you with their simple beauty.
Apart from its breathtaking beauty, the major attractions of Panchgani comprise of its historic building, built as per the British architectural style. Then, there are the Parsi houses adding to the charm of the small hamlet. If you want to traverse through the countryside, viewing the lush greenery, the thick foliage and the deep caves, the best way is to go on horseback. Make sure to visit the magnificent Kamalgad Fort, while on the sightseeing trip of the hill station. Panchgani is also known for housing some of the best boarding schools of India.
Tourist Attractions
There are a number of tourist attractions in Panchgani that are worth seeing. These include those offered by the nature as well as those that are the result of the conscious efforts of man. Some of the most popular ones amongst these are Apex Point, Baby Point, Devil's Kitchen, Dhome Dam, Grover Point, Harrison's Folly, Kachhawari Point, MRA-Moral Rearmament Training Centre, Meherbaba Caves, Parsi Point, Rajpuri Caves, Sydney Point and Table Land. Make sure to visit all of them, whenever you happen to visit the hill station.