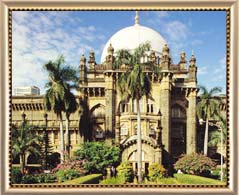 Mumbai has a rich history and an opulent heritage to boast of. The city has been witness to gruesome battles, political milieu and heroic acts. All of them have left an indelible their mark on the past, present and future of the 'City of Dreams'. Serving as a repository of this rich legacy of Bombay are its numerous museums, where the time seems to have just stopped. They provide the perfect window from where you can peek into the earlier times, when the city was completely different from what it is today. Those interested in nature, need not worry. There is the Bombay Natural History Society, where one can see specimens of numerous insects and reptiles. Given below is information on the major museums in the Mumbai city of India.
Bombay Natural History Society
Bombay Natural History Society is headquartered inside the Hornbill House, situated on the Shaheed Bhagat Singh Road of Mumbai. It claims the distinction of being the largest Non Governmental Organization (NGO), not only in Maharashtra, but the whole of India.
Mani Bhawan Museum
Mani Bhawan Museum, also known as Mani Bhawan Gandhi Sangrahalaya, is situated on the Laburnam Road in Mumbai. It is dedicated to Mahatma Gandhi, the 'Father of the Nation'. The bhawan is a must-visit destination for all those who believe in Gandhiji's philosophy.
National Gallery of Modern Art
National Gallery of Modern Art is an organization that comes under the Ministry of Tourism and Culture - Department of Culture, Government of India. It opened its Mumbai branch in the year 1996 and since then, it has been organizing exhibitions in the city on a regular basis.
Nehru Planetarium
Nehru Planetarium is situated on Dr. Annie Besant Road in Worli locality of Mumbai. It is housed at the Nehru Center, along with an art gallery, a restaurant, a library, a cultural center and a 14-gallery exhibit (Discovery of India). The cylindrical shaped building was designed by J.M. Kadri.
Prince of Wales Museum
Prince of Wales Museum is situated on M.G. Road, in the Fort area of Mumbai city. The origins of the museum have been found to date back to the beginning of the 20th century. It was founded to commemorate the visit of the Prince of Wales, King George V, to India.
Victoria and Albert Museum
Victoria and Albert Museum is one of the oldest museums situated in the city of Mumbai. Relatively unknown to the tourists, this museum is situated on the Dr. Babasaheb Ambedkar Road in the Byculla locality. It stands in the middle of the famous 'Jijamata Udyan' of Bombay.