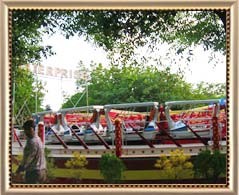 Mumbai city has something to offer to its each and every visitor. For the nature lovers, there are the likes of the Sanjay Gandhi National Park; for those interested in historical monuments, is the Gateway of India and for those looking for some fun and frolic, there are the numerous amusement parks of the city. Essel World, being the oldest amusement park of Bombay, is frequented by a large number of people. Apart from that, a number of other parks have also sprung up, with some of them situated in the outskirts of Mumbai. Given below is information on the amusement parks of Bombay.
Essel World
Essel World was the first amusement to be set up in Mumbai and till today, it holds the distinction of being the city's largest amusement park. It is situated in the outskirts of Bombay, on the Gorai Island, and is the only international style theme park in the city.
Fantasy Land
Spread over an area of 30 acres, the Fantasy Land amusement park of Mumbai is situated at Jogeshwari, near the Essel World. Built over an expanse of green landscape, it offers a large number of rides to its visitors.
Suraj Water Park
Suraj Water Park is situated at a distance of approximately 8 km from Thane and 15 km from the Borivali station of Mumbai. Constructed by Muchhla Magic Land Private Limited of India, the water park has a huge man-made fiber cave.
Water Kingdom
Water Kingdom is a water park situated in Gorai, near the famous Essel World amusement park. People belonging to different age groups and social strata come to this park to take a break from the everyday tensions and have fun.
Nishiland Water Park
Nishiland Water Park is situated on the Old Mumbai-Pune Highway, at a distance of approximately 45 km from Ghatkopar. One of the leading water parks of India, Nishiland is set against the backdrop of the Sahayadri Mountains and spreads over an area of approximately 55 acres.
Shangrila Water Park
Shangrila Water Park is situated on the Mumbai-Nashik Eastern Express Highway, at a distance of approximately 50 km from Central Mumbai. Just an hour's drive from Bombay, this amusement park is set amidst picturesque hills and serves as the perfect weekend getaway destination.