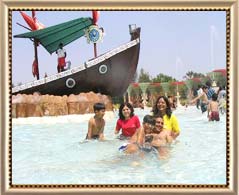 Water Kingdom is a water park situated in Gorai, near the famous Essel World amusement park. People belonging to different age groups and social strata come to this park to take a break from the everyday tensions and have fun. Water Kingdom claims the title of being the largest theme water park not only in India, but in the entire Asian continent. Even its location is such that it is easily accessible from anywhere in Mumbai, thus making it one of the most-frequented picnic spots in the entire city.
The wave pool of the water park is believed to be the largest in the whole world. The sheer number of slides and rides at the pool is enough to make your heart beat wildly. The river adventure cruises available at Water Kingdom further add to the fun. There is also a Brat Zone in the water park, where one can find geysers, and button operated water games with jets. Not to be missed is Misphisly Hill, comprising of 12 hi-speed exhilarating rides. Amazonia, with three rapid rivers, is the perfect place to try out rafting.
If you want to laze around and relax, go for Goofer Lagoon, the perfect place to chill out. Another option is Drifting River, which is nothing but a continuous stream of slow flowing water. Just lie in there, relax and let your body drift along with water. So many games, rides and so much fun are definitely going to make you hungry. So, you have a number of food stalls, along with a McDonald outlet, to indulge yourself. Water Kingdom is open from 11 am and 7 pm, on all days. You can easily reach there by road, taking the Western Express Highway.