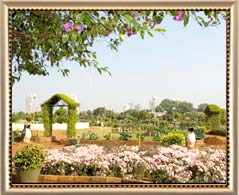 When anyone talks about beauty and serenity, the first thing that comes to mind is a park/garden. Strolling amidst beautifully manicured gardens, with blossoming flowers providing as the background, seems to be the perfect thing to do after a hard day at work. Even children love parks, where they can run, play games and enjoy swings. Especially in the present day world, where open spaces seem to diminishing day by day, parks and gardens serve as a respite from the world of concrete. Same is the case with the Mumbai city of India. The people living here love to venture out in the evenings, go to such places and enjoy as a family. Given below is complete information on the major gardens and parks of Bombay.
Horniman Circle Gardens
Horniman Circle Gardens is a huge park of Mumbai, which sprawls over an area of 10.101 sq m. It is located in the Fort District of South Mumbai. The park is situated amidst premier banks and was initially known as Bombay Greens. Horniman Circle Garden dates back to the 18th Century.
Hanging Gardens
Hanging Gardens of Mumbai are situated on the western side of Malabar Hills, just opposite to the Kamala Nehru Park. Beautifully terraced and landscaped, they are also known as the Ferozeshah Mehta Gardens. Since the gardens were set up on the slope of a hill, they were named as the Hanging Gardens.
Kamla Nehru Park
Kamla Nehru Park is one of the most famous picnic spots in the Mumbai city. It is especially very popular amongst the kids, who come here to indulge in their childish outdoor games and have fun. The park is situated on top of the enchanting Malabar Hill.
Sanjay Gandhi National Park
Sanjay Gandhi National Park, also known as the Borivali National Park, is the only national park situated inside the Mumbai city. It was given the status of a national park in the year 1974 and since then, it has been playing home to some of the most exotic species of animals and birds.
Victoria Gardens
Jijamata Udyan is another name for the Victoria Gardens, situated in the Byculla area of Mumbai. It is basically a zoo and a garden, which was laid out in the year 1861. Victoria Gardens was the initial name of the gardens, which was later changed to Jijamata Udyan.