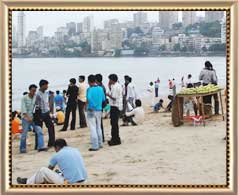 Mumbai is a city thronged by tourists, businessmen and students alike. People come here from all parts of India as well as the world, for tourism or study or business purposes and roaming around the city is an inherent part of their stay. Being a coastal city, Bombay is full of magnificent beaches that seem to take away all the tensions from your mind. Their striking beauty, combined with amazing sunsets and long stretches of white sand, implores you to spend some more time there and enjoy the splendor of nature. There are also chances of coming across the celebrities of the tinsel town at these beaches. Given below is complete information on the famous beaches of the Mumbai city of Maharashtra.
Chowpatty Beach
Chowpatty Beach is situated at the northern end of the Marine Drive, near the Malabar Hill of Mumbai. It is the place where you can come and enjoy, after a hard day at work. The serene waters of the sea, combined with the cool sands of the beach, let you relax completely.
Juhu Beach
Juhu Beach is the most popular and most visited beach of the Mumbai city of India. A flat beach, it is situated in the heart of the city and remains crowded with visitors round the year.
Madh Island Beach
Madh Island Beach is situated along the northwest coast of the Mumbai city of India. One of the unique features of this beach is its rural background, which completely contrasts with the luxurious bungalows that seem to be lining its forefront.
Marine Drive
Marine Drive Beach is situated along the shoreline of the Arabian Sea and stretches right from the Nariman Point to the foot of Malabar Hill. The two ends of the beach come across as completely contrasting, with the Nariman Point being a concrete jungle and Malabar Hill being resplendent with nature's beauty.
Versova Beach
Versova Beach is counted amongst the popular attractions of the Mumbai city of India. It is situated towards the north of Juhu Beach and comes under the district of Greater Mumbai. Infact, Versova Beach is regarded as an extension of Juhu only, with only a creek separating the two.