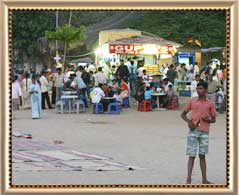 Chowpatty Beach is situated at the northern end of the Marine Drive, near the Malabar Hill of Mumbai. It is the place where you can come and enjoy, after a hard day at work. The serene waters of the sea, combined with the cool sands of the beach, let you relax completely and lose yourself in the fun surrounding you. Though the waters are not recommended for swimming, they nonetheless present a picturesque sight. The open expanse invites you to have long walks or just lie down and relax.
Another major attraction of the Chowpatty Beach of Bombay is that it serves as the venue of a number of Hindu festivals, especially Coconut Festival and Ganesh Chaturthi. Infact, it is very popular place for the immersion of Lord Ganesha's idol during Ganesh Chaturthi, amidst much dancing, chanting of mantras and fanfare. Apart from that, the beach is visited by a large number of people, who come here to take a break from the concrete jungle where everything has become too impersonal.
However, most of the rush can be seen during evening, when the sun starts bidding goodbye to people. The Ferris Wheels rides and pony rides available there serve as major attractions for kids. Wayside astrologers, monkey shows, self-styled gymnast, etc are the other attractions that draw people to the Chowpatty Beach of India. When there, do not forget to taste the delicious street food, comprising of Bhelpuri, Sevpuri, etc. If lucky, you may see a live film shoot or any Bollywood celebrity roaming around the beach.