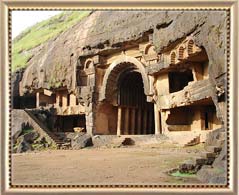 Khandala is a very beautiful and very small hill station, situated in the state of Maharashtra. Sited amidst picturesque locales, this hill resort provides exceptionally mesmerizing view of the gorgeous valley seen below. The hectic lifestyle of the city drives people out of their homes and towards this place, which serves as the perfect haven for them. Walk across the landscape of Khandala, explore its hidden treasures or just sit in your hotel room balcony, sipping tea and savoring the delights of nature. Given below are the spots that must be covered on sightseeing tours of Khandala.
Duke's Nose
Duke's Nose is the name given to a cliff situated near Khandala. It was so named because the cliff seems to resemble the shape of the nose of Duke Wellington. Duke's Point boasts of spectacular natural beauty that can mesmerize people at any time of the year.
Amruntanjan Point
Amruntanjan Point is a beautiful spot, located just at the start of the Khandala Ghat. From this point, one can have magnificent views of the Duke's Nose as well as the city of Khopoli.
Reversing Station Point
Reversing Station Point also offers breathtaking view of Duke's Nose. From here, one can also see trains changing lines on either side.
Tiger's Leap
From the vantage point of Tiger's Leap, you can hope to get some of the most spectacular views of the valley situated below. The name of the spot is 'Tiger's Leap' because as you gaze down it, it looks like a tiger leaping into the valley. To ensure the safety of the visitors, big holes have been provided for looking down from the great height.
Karla and Bhaja Caves
Karla and Bhaja Caves are located at a distance of approximately 16 km from Khandala. Dating back to the 2nd century BC, these caves are visited by a large numbers of tourists every year. They belong to the Hinayana sect of Buddhism and serve as an example of the rock cut architecture of that time.
Khandala Lake and Bhushi Lake
Khandala Lake and Bhushi Lake situated here are definitely worth having a look at. The picturesque surroundings and serene environment of the lakes are surely going to take away your heart.
Rock Climbing
The adventure enthusiasts wouldn't go back from Khandala empty handed. They can try their hand at rock climbing at the Duke's Nose peak and other locations in the Karla hills.