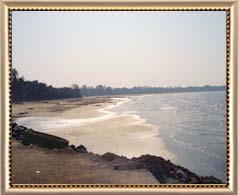 Mandwa Beach and Kihim Beach are situated near Alibag, the beautiful hill station in Maharashtra. Both the beaches have been gifted with fabulous locales and extremely tranquil surroundings. This is what makes them a popular haunt, especially amongst the city dwellers. Mandwa and Kihim Beaches are only 120 km from Mumbai and being close to Alibag, they usually form a part of the excursion trip from the city, to the hill station.
Lying to the north of the Mumbai city of India, the beaches boast of exquisite natural brilliance. Kihim Beach is an isolated beach, which has still been able to escape from the clutches of commercialization and retains its natural appeal. Surrounding the beach are numerous wooded trees, which mostly remain in full bloom, with wild flowers and colorful butterflies. The coconut trees that can be seen amidst the colorful flowers add to the scenery.
Kihim Beach is also a heaven for bird lovers, as it serves as retreat to a wide variety of resident and migratory birds. Kolaba Fort, situated at a small distance from the beach, is worth having a look at. Mandva Beach of Maharashtra is as magnificent in its beauty as the Kihim Beach. The pristine location of the beach, combined with its virgin beauty, has attracted tourists from various corners of India as well as other countries.
Mandva Beach lies quite near to the Gateway of India, the pride of Mumbai, and on a sunny day, you can easily see the magnificent monument from the beach. One look at the beach and it is sure to remain etched in your memory for a long time to come. The Mandwa village, situated nearby, also draws visitors with its coconut trees. Chaul - known for Portuguese ruins, Buddhist caves, a church, a temple and even a synagogue, is also located near Mandwa Beach.