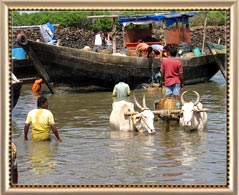 Alibag is a very picturesque town, situated along the west coast of India. It is a municipal council that falls under the Konkan region of Maharashtra and is counted amongst the popular weekend getaways from Mumbai. The town forms a part of the Raigad district of Maharashtra and also serves as its headquarters. Most of the high society people of Mumbai have bungalows or farmhouses in Alibaug, where they come to escape from the mundane tensions of routine life, every now and then.
The coastal town of Alibagh dates back to the 17th century, when it was developed Sarkhel Kanhoji Angre, the Naval Chief of Shivaji Maharaj. It is situated to the south of the Mumbai city, at a distance of approximately 35 km. One of the major attractions of the town is its serene beach, which boasts of exotic locales and azure blue waters. Along with that, it has nine other beaches, situated in the vicinity. All these beaches combine to boost the travel and tourism industry of Alibag.
Then, there is the Kulaba Fort, situated just off the main seashore of the town. However, it can be visited only during low tide, when the waters have receded back to the sea. Even though Alibaug has much to offer in terms of tourism, it is visited by a moderate number of visitors and this is what adds to its charm. The serenity that this coastal town offers is hardly available in most of the other beach resorts of India. So, come and explore the sun and sand at the coastal town of Alibagh and go back with memories to last a lifetime.
Beaches in and around Alibag