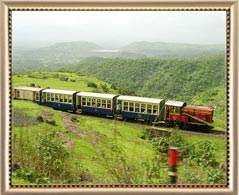 Matheran, a hill station that falls under the Raigarh district of Maharashtra, is a preferred weekend getaway for the Mumbaikars. One of the few places in India that cannot be reached through road transport, it is accessible through a toy train. Chugging on the two hour journey, the train serves to let you have a glimpse of the raw beauty of nature. The monkeys living in the surrounding forests seem to be jumping on and off the train through its journey. The 11 km ascent covered by it is accompanied by incredibly steep drops to the sides.
As you look down through the window, become witness to some of the most mesmerizing views that you can hope to see in this lifetime. Matheran is sprawled at an altitude of around 800 m above the sea level and provides the perfect haven, away from the maddening rush of the city life. The green trees that seem to provide the perfect cover to the hill station add to its appeal. With time, the popularity of Matheran has increased, taking it on the map of the travel and tourism industry of the country.
One of the spots in the hill station, known as the Hart Point, offers you a view of the Mumbai city, which seems like a cluster of lights at night. Matheran offers a large number of picnic spots to people, where they can go and enjoy - either as a couple or as a family. Amongst the most popular attractions of the hill station are Charlotte Lake, Panthers' Caves and Paymaster Park. Children especially dig the park, which is full of rides and provides them with the open space to play around and have lots and lots of fun.
Providing architectural beauty to the hill station are the numerous British and Parsi mansions, which seem to be dotting its landscape. They seem to stand out amidst the natural beauty of the hill resort. Matheran also has a local bazaar of its own, where you can find a variety of items, to shop for yourself or take back home as souvenirs. These include cane and leather articles, hats, chappals, and so on. When there, do not forget to buy Chikki - a sweet specialty. Since no vehicles are allowed to ply here, the hill station serves as the epitome of serenity!