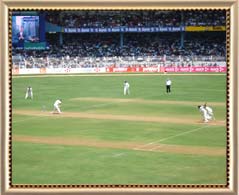 Wankhede Stadium, owned by the Mumbai Cricket Association (MCA), is situated in the Churchgate area of the Bombay City. The story behind the establishment of the stadium is very interesting. Before the Wankhede Stadium was established, the cricket matches in Bombay used to take place at the Brabourne Stadium, owned by Cricket Club of India (CCI). Some dispute arose between the MCA and CCI, which got more severe after the 1973-test between India and England.
Miffed at this, S.K. Wankhede, the Secretary of MCA and a politician, undertook the initiative to get a new stadium constructed in the Churchgate area. With the seating capacity of 45,000, the Wankhede Stadium, named after S.K. Wankhede, has today taken over the Brabourne Stadium in each and every aspect. The first Test Match in the stadium took place between India and West Indies in the year 1975, while the first One Day International (ODI) was played between India and Sri Lanka in 1987.
The various structures of the Wankhede Stadium have been named after the great players in the history of cricket. For example, the main gates have been named after Polly Umrigar and Vinoo Mankad and the stands after Vijay Merchant (West stand), Sunil Gavaskar (East stand upper) and Sachin Tendulkar (North stand). Wankhede Stadium has been a witness to the some amazing innings, like the 1978-79 series in which Sunil Gavaskar scored 205 against the West Indies. The same game also saw Kallicharan getting 187 runs.
The highest runs to be scored by an Indian in the stadium till date are Vinod Kambli's 224, in the match he played against England in 1992-93. Wankhede Stadium has also seen the day when Ravi Shastri hit six sixes in a single over, in 1984-85. The highest test total scored here is 604, by West Indies against India in 1974-75 season. The pitch of Wankhede Stadium is such that the spinners hold an edge against the fast bowlers. This is because of the proximity of the stadium to the sea, which helps the ball to spin and bounce. Even the pacers find this track quite friendly.