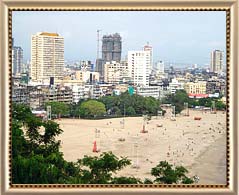 Malabar Hill is the name given to a small hillock, situated in the southern area of Mumbai. There is a very interesting history behind the naming of the hill as 'Malabar'. During the time Bombay city was being developed, it became a target for the pirates of the sea, which included those from the Malabar Coast of Kerala. To ensure protection from the attack of the pirates, a lookout tower was established on a nearby hill, so as to keep an eye on the sea as well as the pirates. This hill later came to be known as the 'Malabar Hill'.
Malabar Hill is one of the posh as well as the most elite areas in the Bombay city. Here, one can find the residences of some of the famous business tycoons and film personalities of India. Amongst them are houses of the Governor (Raj Bhavan) and the Chief Minister of Maharashtra (Varsha). You can also find the homes of film personalities like Juhi Chawla, Akshaye Khanna and Rahul Khanna on the hill. Malabar Hill is counted amongst the most expensive residential areas of the country.
One of the reasons for this is its picturesque location, with Chowpatti beach in the foreground and Nariman Point in the background. Forming a part of the attractions of the hillock is Walkeshwar Temple, built by the Silhara kings and dedicated to Lord Shiva. Banganga Tank, a part of the temple complex, is also quite popular amongst tourists as well as the local people. Then, there is a Jain Temple, dedicated to Lord Adinathji - the first Jain Tirthankara. Other attractions of Malabar Hill are Parsi Tower of Silence, Hanging Gardens, Kamala Nehru Park and Priyadarshini Park.