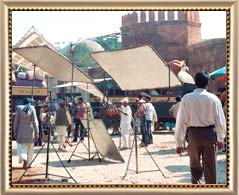 Film City of Mumbai is the ultimate destination for people interested in having a glimpse of the cine stars. It is the place where numerous Hindu movies are made throughout the year, right from the full blown commercial films to the parallel cinema flicks. The inception of the Bombay Film City goes back to the year 1911, when India's first silent feature film was made. Since then, Mumbai Film City has evolved a lot and has been continuing up the ladder of expansion and growth.
It was the brainchild of Dada Saheb Phalke, one of the legendry filmmakers of the country. His dream project is now helping the other filmmakers to fulfill their aspirations. Infact, it was Film City that brought the concept of filmmaking in India. Today, the Film Industry of India, known as Bollywood, is recognized the world over and the cine stars have a following in the farthest corners of the world. Film City boasts of having the latest technology available in the filed of cinema.
Slowly, the films being produced in India have started to catch up with the technology used in Hollywood. Working in Film City is the dream of many people, who come here to be a part of Bollywood. Everything needed for making a movie, right from makeshift recording rooms to gardens to lakes to theatres and grounds, is available here. So, if you are planning to visit Bombay, make sure to visit the Film City, the dream city of India. However, you will require prior permission to go inside.