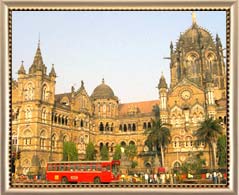 Chhatrapati Shivaji Terminus is one of the busiest as well as the oldest railway stations in India. Situated at the D.N. Road of Mumbai, the terminus was earlier known by the name of Victoria Terminus. It is one of the historic structures in the city and forms a very important part of Mumbai suburban railway. Along with that, Chhattrapati Shivaji Terminus is also the headquarters of the Central Railways of the country. Apart from local trains, a number of long distance trains also operate to and from this terminus.
Victoria Terminus holds the distinction of being declared a World Heritage Site by the World Heritage Committee of UNESCO, in the year 2004. The terminus has been built as per the Venetian Gothic style of architecture and dates back to the year 1888. Its architectural style also reflects the influence of traditional Indian architecture. One can find the interiors of the terminus adorned with wood carving, tiles, ornamental iron and brass railings, etc. There are also grills for the ticket offices and railing for the grand staircases.
All the embellishments mentioned above were the work of the students at the Bombay School of Art. Frederick William Stevens, a consulting architect, designed the entire structure of the Chhatrapati Shivaji Terminus, for which he charged an astronomical fee of 16.14 lakh rupees. The construction work on the terminus took 10 years to get fully completed. It was then named as 'Victoria Terminus', in the honor of Queen Victoria. It was only in the year 1996 that the name of the terminus was changed to Chhatrapati Shivaji Terminus, after Shivaji - a Maratha king.
The huge central dome, soaring towers, pointed arches and unconventional floor makes the terminus a must-visit destination on a tour of Mumbai. Infact, its architecture bears a distinct similarity to the traditional Indian palace architecture. Chhatrapati Shivaji Terminus is also a very important part of the history of the Indian Railways. It was this terminus only that saw the first steam engine being flagged off in the country. The engine made a journey from Mumbai to Thane and served as a significant landmark of the past.