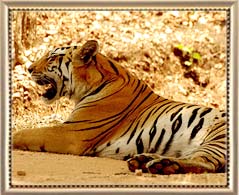 Amaravati city is full of religious places, out of which the most popular as well as the most revered one is the Ambadevi Temple. Along with its own tourist attractions, the city boasts of a number of excursions too. These excursions comprise of all the tourist destinations in and around the outskirts of Amaravati. Most of the interesting tourist places situated near the city are related to nature and wildlife and make a great getaway from the hectic city life. In the following lines, we have provided information on the popular excursions situated near the Amravati city of Maharashtra.
Chikhaldara Wildlife Sanctuary
Chikhaldara Wildlife Sanctuary is situated in the Amaravati district of Maharashtra and forms one of the popular excursions from the Amravati city. The sanctuary forms a part of the sole hill station of the Vidarbha region, characterized by beautiful lakes, serene lakes and cascading waterfalls.
Melghat Tiger Reserve
Melghat Tiger Reserve is situated in the Satpuda hill range, near the Chikhaldara Wildlife Sanctuary. It falls under the Chikhaldara and Dharni tehsils of Amaravati and sprawls over a wide area of approximately 1676.93 sq km. This tiger reserve is counted amongst the few remaining abodes of the Royal Bengal Tiger in the state of Maharashtra.
Wan Wildlife Sanctuary
Wan Sanctuary is nothing but, an extension of the Melghat Tiger reserve. Situated on the southern side of Melghat, the sanctuary falls under the Amravati district of Maharashtra only. Dotted with tropical dry deciduous forests, the hilly and jagged terrain of the Wan Wildlife Sanctuary is home to a large as well as rich variety of flora and fauna.