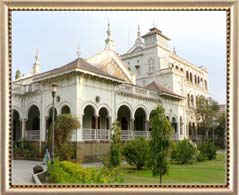 Shirdi is an important pilgrim destination for the Sai believers and followers. They visit the town to pay their respects at the samadhi of Baba and ask for his blessings. A simple visit to Shirdi has indeed served as a blessing for many, especially those who have unquestionable faith in Sai Baba. Those who come to Shirdi also make it a point to visit the numerous other sites situated near this holy Maharashtra town. One such popular excursion near Shirsi is Nashik, which boasts of a number of splendid temples. Apart from that, we have Sakori, Pune, etc. In this article, we have provided information on the major tourist places situated near Shirdi.
Nashik
Nashik is one of the main cities of Maharashtra and serves as the administrative headquarters of the district of the same name. The exact geographical location of the city is between 18.33 deg and 20.53 deg North Latitude and between 73.16 deg and 75.16 deg East Longitude.
Pune
Pune, the Cultural Capital of Maharashtra, is counted amongst the most developed cities of India. It situated on the edge of the Deccan Plains, quite near to the Western Ghat Mountains. This location of the city has resulted in it being known as the 'Queen of the Deccan' also.
Sakori
Situated at a distance of merely 5 km from Shirdi is Sakori, known for its Shri Upasani Kanyakumari Sthan. The place is especially popular amongst pilgrims who have come to Shirdi in hope of peace and tranquility. This is because the Shri Upasani Kanyakumari Sthan, founded by Upasani Baba in the year 1917, offers its visitors complete solitude and serenity. It seems to be reverberating with positive energy, which is hard to be missed by anyone.
Shanisinghnapur
Shanisinghnapur is a village regarded to be the holy seat of Shani Dev. It is located at a distance of around 70 km from Shirdi and is visited by people whose Shani (Saturn planet) is in disarray. They perform pooja and abhishek at the Shari Shaneshvar tirtha situated here, to appease the dev. Though the place seems to be full with Shani bhakts throughout the month, exceptional rush is seen on Amavasya (no moon day).
Even amongst the 12 Amavasyas of the year, the most important one is Shani Amavasya. On this day, a procession (yatra) is taken out in the village, amidst great fanfare. On this day, people from farthest corners of India come to Shanisinghnapur, to pay respects to Shani Dev. A unique feature of the village is that here, nobody locks his house. It is said that Shani Dev protects the villagers and as if as a proof of this saying, no theft has taken place in the village till date.