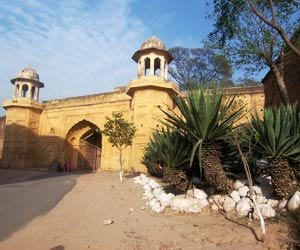 Bahadurgah Fort is a famous tourist attraction of Punjab, located 6 km away from the city of Patiala. It lies at a distance of one and half kilometer from the main gate of Punjab University. The fort was built in 1658, by Nawab Saif Khan and was called Saifabad. Later, Maharaja Amar Singh renovated the fort and renamed it as Bahadurgah Fort. In 1837 A.D., Maharaja Karam Singh rebuilt it and got it construction completed in 8 years.
Bahadurgah Fort was so named in commemoration of the holy memory of Guru Tegh Bahadur who visited the place at the invitation of Nawab Saif Khan. The Nawab was a relative of the Mughal Emperor Aurangzeb. He renounced the world, turned hermit and settled here, giving away the important offices he held. He was buried here, after his death. Unfortunately, his tomb that now lies behind the fort is in a state of neglect, though his followers still lit a lamp on it every Thursday.
The inscriptions in Bahadurgah Fort confirm that the village and the mosque were founded in 1668, during the reign of Aurangzeb. Nawab Saif was a great follower of Guru Tegh Bahadur and invited him to spend the rainy season at the fort. The two gurdwaras there commemorate the visit. One of them is located inside the fort and the other outside across the road, known as Panj Bali Gurdwara. The fort has a total circumference of 2100m and the outer wall is 8.8m. A fair known as Mela Roza Sharit Nawab Sharif Ali is held here, in the months of January and June every year.