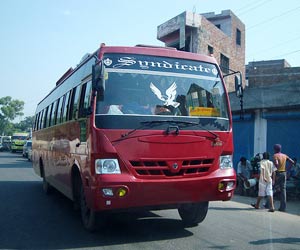 Patiala is one of the erstwhile princely cities of Punjab. It has a well-developed infrastructure, which connects the place with different parts of the country. Though it has no air and rail service of its own, the services are available at close proximity. This makes reaching Patiala a hassle-free experience for all. Go through the following lines to gather more information on how to reach Patiala.
By Air
Since there is no airport in Patiala, you will have to take flight to the closest airport of Chandigarh, if you wish to travel to the city by air. Chandigarh is located at a distance of only 56 km from Patiala. Hence, after reaching Chandigarh, you can hire taxi or bus and travel down to Patiala conveniently. Flights can be taken to Amritsar as well, which is situated at a distance of 206 km from Patiala. A number of domestic flights regularly operate to Chandigarh and Amritsar, from different parts of the country.
By Rail
Patiala has a railway station of its own, connecting it with all the key destinations in India, such as Delhi, Mumbai, etc. Apart from that, Chandigarh and Ambala present the two nearest rail links from the place.
By Road
Patiala lies off the excellent National Highway No.1 (Delhi-Amritsar) and is just 250 km from Delhi. There are number of government and private buses running from Delhi to Patiala. You can also drive to Patiala from Chandigarh, via Zirakpur (on NH22) and Rajpura.