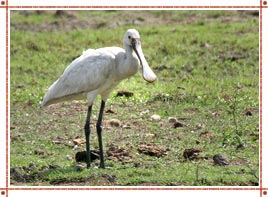 Bharatpur, situated in the state of Rajasthan, is one of the popular tourist destinations in India, especially for those who are interested in exploring natural beauty. With its history dating back to the epic age, more precisely the time of the Ramayana and Mahabharata, even history seekers would find the place luring them from the remotest corners of the world. In case you have planned a visit to Bharatpur in the near future and are wondering as to what to do and see therein, the information provided below would surely prove useful.
Fun Activities to Do in Bharatpur
Indulge in Bird Watching
Bharatpur is especially famous for its bird sanctuary, which is also called Keoladeo Ghana National Park. The place boasts of as many as 375 species of birds, of which the most notable ones are Common Demoiselle, the rare Siberian Cranes, Boar Painted Storks, Egrets, Cormorants, White Ibis, Jacanas, While Harriers, Fishing Eagles, and Pied Kingfisher. The best times for bird watching at this sanctuary are August to November (for resident breeding birds) and October to February (for migrant birds).
Discover the Rich Wildlife
Bharatpur Bird Sanctuary, unlike what its name suggests, is not home to birds only. Rather, it also boasts of rich and varied species of wild animals as well. For instance, you can easily spot blue bull (nilgai), black buck, spotted deer, sambhars, jackals, otters, and fishing cats at the place. Then, the sanctuary also houses snakes and reptiles, like pythons and monitor lizards.
Explore the Rich Heritage
If you are one of those who love to delve into the past of a city and explore its rich heritage, then Bharatpur will surely not disappoint you. There are a number of historical places in the city that are worth visiting. For instance, you can explore Bharatpur Palace and Government Museum, which comes across as a blend of Mughal and Rajput styles. Then, there is Ganga Mandir, Laxman Mandir and Lohargarh Fort, all of which surely merit a visit.
Go on a Safari
A visit to Keoladeo Ghana National Park, without going on a jungle safari, would be as good as wasted. So, do make sure to get up early in the morning and go on a wildlife safari. You are sure to come up with some of the most exciting sights in the bird sanctuary.
Enjoy The Boating
Bharatpur Bird Sanctuary has been created around an artificial lake, Bharatpur (after which the sanctuary has been named). The beautiful lake not only attracts tourists, but is a favorite spot of the birds as well. So, donít forget to take a boat ride in the sanctuary and watch the birdlife from up close.
Tips
Bharatpur Bird Sanctuary remains open throughout the year, from sunrise to sunset.
Vehicles are allowed go only up to Shanti Kutir, i.e. approximately 1.7 km inside the park. From there, you have to take a bicycle or cycle rickshaw.
In the monsoon season, when the water level in the sanctuary is high, tongas and boats are available from Shanti Kutir.