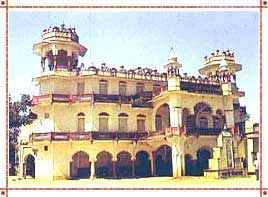 If you are planning to go on a Jhalawar, Rajasthan sightseeing tour, this article will prove to be quite helpful. Given below is a list of some of the famous tourist attractions of Jhalawar:
Jhalawar Fort (Garh Palace)
One of the famous places to see in Jhalawar is the Jhalawar Fort. Maharajrana Madan Singh built the Jhalawar Fort, situated in the heart of the town, during 1840-1845. As time passed, his descendants added exquisite paintings inside the rooms of the fort. Some of the most delightful wall paintings can be seen in the Zenana Khas. Also known as the Garh Palace, the fort presently accommodates the Collectorate and some other offices
Government Museum
The Government Museum of Jhalawar is one of the oldest museums of Rajasthan. Situated outside the fort palace, the museum was set up in 1915. The museum exhibits an array of rare manuscripts, sculptures, coins, paintings, statues of various deities, old inscriptions (dating back to 5th and 7th century), etc. Many idols displayed in the museum were recovered form various ruins. One of the highlights of this museum is the Ardhnarishvara Natraj statue, which was also displayed in Moscow during the Festival of India celebrations.
Bhawani Natya Shala
Bhawani Natya Shala is a theatre built for the performance of plays and other cultural events. Situated near the fort, the theatre was built by Maharaja Bhawani Singh in 1921. The theatre once housed great plays like Shakuntalam and Shakespeare's classics. It is adorned with exquisite architecture and is a unique structure in itself. It is believed to be one of the only eight structures in the world with a deep under the stage construction, allowing horses, and even chariots to appear on stage.