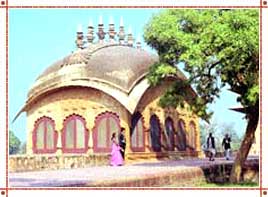 Sariska excursions consist of some of the finest places near the city. Excursions around Sariska, Rajasthan are a must see for those visiting the city. Some of the famous places to visit around Sariska are:
Alwar
The city of Alwar is situated at a distance of about 36 km from Sariska. Rao Pratap Singhji of Macheri founded this city in 1771 to serve as his capital. The main attractions of Alwar include the hilltop fort, a place, a number of temples, a beautiful garden, the local museum, etc.
Siliserh Lake & Palace
The Siliserh Lake is situated near the Sariska tiger reserve, just off the Alwar-Sariska road. Overlooking the palace built by Maharaja Vinay Singh in 1845 for his queen Shila, the lake presents a fascinating sight. The palace has now been converted into a tourist resort. The lake serves as a popular picnic spot, providing the facilities of boating and sailing. Major attractions of the lake include the crocodiles inhabiting of the lake.
Deeg
Deeg is situated at a distance of few km from Sariska. A place famous for its amazing palaces and gardens, Deeg was built by Suraj Mal in the 18th century. The history of the place mentions for a battle between Maharaja Suraj Mal and the combined army of Marathas and the Mughals. The battle ended with the taking over of this place by the combined army. Once serving as the summer resort of the Bharatpur rulers, Deeg is now known as an agricultural town.