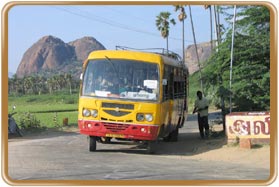 By Road
Tirunelveli is well connected by road. The city is located on the National Highway no. 7. It is well connected to all the major cities of Peninsular India by National as well as state highways. The Tamilnadu Transport Corporation operates buses to Chennai, Bangalore, Salem, Coimbatore, Nagapattinam, Erode and Tirupati originating from Tirunelveli.
By Rail/Train
The Tirunelveli Junction railway station is an extremely busy and important railway junction in Tamilnadu. It connects Tirunelveli to all the major cities in India and Tamilnadu such as Delhi, Kolkata, Chennai, Mumbai, Bangalore, Trichy, Tanjore and Kanyakumari. Various express and super fast trains pass through Tirunelveli.
By Air
The nearest airport from Tirunelveli is Tuticorin airport that is located at a distance of 28 kilometers from the downtown Tirunelveli. Tuticorin airport sees very less flights but Trivandrum airport that is around 150 kilometers in Kerala has regular flights for various cities in India as well as South and West Asia.