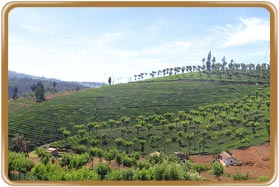 The Nilgiri district in Tamilnadu is home to the splendorous Nilgiri or Blue Mountains that are a part of a larger mountain chain known as the Western Ghats, sweeping across the states of Tamilnadu and Kerala. The elevation of this mountain range varies between 2,280 to 2,290 meters, with the highest peak being Doddabetta at 2,623 meters.
The Nilgiris are a trekker's paradise. Adventure and excitement are riveted to the Nilgiris. The tourists can get in their trekking gear and enjoy an adrenaline pumping scaling of the mountains. You could get information regarding trekking in these mountain ranges from Nilgiri Wildlife and Environment Assocaition (NWEA). Guides are also available to assist you in trekking.
The Nilgiris have tea cultivation at the height of 1,000 to above 2,500 meters. This also produces eucalyptus oil and temperate zone vegetables. The Nilgiris have a cool and wet climate and the area is a popular summer retreat, with hordes of tourists from across the country flocking the heights in all excitement. The picturesque rolling hills of the Nilgiris remind one of the Downs in Southern England.
The main town in the region is Udagamandalam, which reflect a colonial aura with several buildings built on British style. The other major towns of the region are Coonoor, Kotagiri, Gudalur and Aruvankadu. You can visit some of the famous tourist spots when in Coonoor. Plan your trip in summers when Coonoor holds fruit show at Sims Park, you can also visit Lamesrock.
There are two national parks in the Nilgiris.
Mudumalai National Park
is in the northern part of the range at the junction of Kerala, Karnataka and Tamilnadu covering an area of 321 sq km.
Mukurthi National Park
lies in the Southwest of the range in Kerala, covering an area of 78.5 sq km The whole sweep of Western Ghats to the Northwest and Southwest come under the realm of India's first biosphere reserve, which is a home to number of bird species, including the Nilgiri Pipit, Nilgiri Woodpigeon and Nilgiri Blackbird.
Nilgiri is also home to Toda people a tribe that has been living there for ages. They weave red, black and white embroidered shawls and carve silver jewelry, which are quite popular among the tourists.