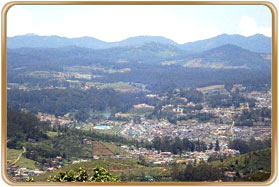 Min Temperature:
10°C (Summer), 5°C (Winter)
Max Temperature:
25°C (Summer), 21°C (Winter)
Best Time To Visit:
February to May, September to November
The verdant locale of Ooty is an all time delight for tourists in every season. The place is placid yet echoes with the abundance of nature's beauty. Summers set the region afire with greenery enmeshed in soft warmth of the subdued sun. The autumn covers the forest with thriving cloak of russet and gold. Winters wrap the place in the cool cover of chill and nip in the fresh and natural environs. Ice formation is likely in winters. Ooty attracts tourists in all the seasons but monsoon season could be avoided as it restricts tourist activities.
You can plan your visit to Ooty between February and May or September and November. If summers are the choice, you can expect a normal temperature reaching 25 Degree C at the maximum. During this season you can carry along cotton clothes and a light jacket. You may also expect unannounced drizzles during the season. During winters, the temperature takes a downslide, reaching 50 degree C, and hence, you better be ready with woolens and warm clothes. In monsoons, Ooty experiences good rainfall between June to September.