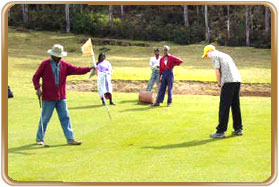 Coonoor is one of the most beautiful hill stations in Nilgiris. Perched at an altitude of 1800 ft, it extends tourists just the right mix of picturesque beauty and affable weather. Apart from this, there are a number of tourist attraction places as well which you really make the trip a memorable one. Add to this the fun activities which Coonoor offers. Tourists can engage themselves in a lot of things when in Coonoor. To get detailed information about what to do and see in Coonoor, browse through the following lines.
Fun Activities to Do in Coonoor
Golfing
For those who have a knack for playing golf, Coonoor can be an ideal haven to retreat to during vacations. One of the most popular golf courses in India, the Wellington Golf Course Coonoor is spread over a large area and is surrounded in the midst of exotic landscape. The serenity of the place coupled with its picturesque beauty adds to the charm and charisma of the place. Due to this, the Wellington Golf Course has become hugely popular among film crews, who film in this area.
Nature Walks
If you want to get a taste of the unexplored beauty of Coonoor, nature walk would be the best bet. Enveloped by lush greeneries on all sides, amidst wild flora and fauna, the place extends tourists just the right opportunity to have a walk in the blissful surrounding. All you need to do is fit in a comfortable pair of shoes and step outside to explore the beautiful and picturesque hill station of Coonoor.
Trekking
Trekking enthusiasts can quench their thirst for thrill and adventure with their visit to Coonoor. Beyond the Wellington Golf Course is the Hidden Valley, an ideal place to indulge in trekking. It is a great trek route and also one of the best ways to explore the bounty of nature. The picturesque beauty of the place would add to the glory of trekking. Some of the trekking options are:
One of the popular trekking trails leads to Lamb's Rock, which is about 9 km from Coonoor. Overlooking the Coimbatore plains, it provides a spectacular view of the tea and coffee plantations.
Another option would be to trek from Lady Canning's Seat to Dolphin's Seat, which is located 12 km from Coonoor.
The Law's Fall is another trekking option, which is located 5 km from Coonoor.
You can then trek from the falls to Droog that is located at a distance of 13 km from Coonoor.