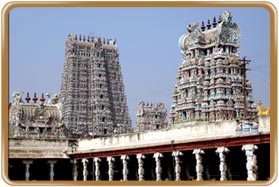 Plan your tour to Madurai, expecting to be a witness to some of the most awe-inspiring architectural magnanimity that this 'Athens of the East' features. Situated on the banks of river Vaigai, Madurai is among the largest cities of Tamilnadu. Today the city is famous for being producer of some of the finest textiles in India along with some of the best harvests of jasmine flowers.
Madurai - History Revisited
Originally built around the Meenakshi temple, Madurai derives its name from the divine nectar (Madhu) that was showered from the locks of Lord Shiva according to a popular legend. Endowed with a rich cultural heritage, which it has inherited from the great Tamil era, Madurai is more than 2500 years old. Madurai finds mention in Megasthenes' Indica. The Greek diplomat and envoy who visited India in the 3rd century BC and praised the architectural grandeur of this temple city. Madurai's glory reached its peak, during the reign of the Cholas and then during the Pandyas' regime in the 13th century. King Thirumali Nayak of the Nayak dynasty who ruled Madurai made some priceless contributions to the city's architectural heritage, this included the building up of the Raja Gopuram (The Main Tower) of the Meenakshi temple, Puthu Mandapam (The New Mansion) and the Thirumalai Nayak Palace.
Madurai - A Perfect Tourist Destination
Today, Madurai presents a chaotic scene to a traveler, featuring the hustle and bustle of any typical Indian city. The only thing that distinguishes the city from the rest is the mind boggling architectural constructions of the temples that conjure some otherworldly image to the city.
You must plan your visit to Madurai with ample of time to explore the intricacies of the architectural marvels of its temples. You can savor the excellent example of Dravidian Architecture in the imposing Meenakshi Amman Temple. You can also visit Koodal Azhaar Temple, one of the ancient temples of Madurai, dedicated to Lord Vishnu. Thirumalai Nayak Mahal, the mega structure build in 1523 AD, has a spectacular light and sound show for the tourist to know about the Nayak dynasty. You could also plan a visit to Vandiyur Kanmoy Tourist Complex run by TTDC, which is an idyllic picnic spot for you to enjoy your travel to Madurai.