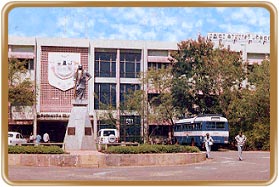 Madurai has been a seat of learning since the Sangam era of Pre-Christian times. This veritable place of learning is equally important in the present time as well, being home to Madurai Kamraj University.
Madurai Kamaraj University, (originally known as Madurai University) owes its name to the sacred city of Madurai, the ancient capital of the Pandyan rulers and the seat of three famous Tamil academies dating back to the beginnings of the Christian and even perhaps an earlier Era. Its nucleus was the Extension centre of the University of Madras located at Madurai.
Originally known as Madras University, this institution was established in 1966 and has 18 Schools comprising 73 Departments. The Directorate of Distance Education of the University has a list of about 1.30 Lakh students. The University has 109 affiliated Colleges (9 Autonomous) including other approved institutions and 7 evening colleges. There are centers, which promote research potential of teachers. Extension activities are carried out through Department of Youth Welfare, NSS, SC/ST cell and Adult Education programs.
Motto of the University
The motto of the University is "To seek truth is knowledge" and this has been taken from Tirukkural.
Activities
Activities of the University include Teaching, Research and Extension activities. These activities are carried out by: a) Regular courses through affiliated colleges, b) Distance Education Programs and Open University Programs through Directorate of Distance Education, c) Post graduate and research programs through the Departments of the University and other approved research centers and d) Extension activities through National Service Scheme, Youth Welfare Department and Department of Adult & Continuing Education.
The university offers Undergraduate courses, Postgraduate courses, Professional courses; Research oriented courses, Job-oriented courses, Certificate, Diploma, Higher Diploma and P. G. Diploma courses
The regular colleges follow Semester Pattern and the Distance Education follows Non-semester pattern. In the University Departments Choice Based Credit System is followed by which a student is free to choose subjects of his/ her choice.
Contact Address of Madurai Kamaraj University
Director, DDE, Madurai Kamaraj University, Ph. No. (0452) 458421, 459185
Study Centers/ Information Centers
Madurai, Chennai, Trichy, Theni, Ramnad, Tirunelveli and Nagercoil. There are also Study Centers in other states. Bulletin can be obtained on free of cost from the Director, Directorate of Distance Education.
How to Reach
By Air:
Madurai has its own airport connected to Chennai, Bangalore, Tiruchi and Coimbatore
By Rail:
An important railway junction, well connected to Chennai and Tirunelveli
By Road:
Well connected to all the major cities of South India.