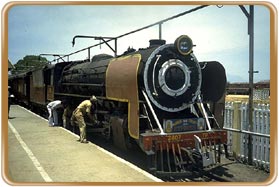 Madurai is one of the must-visit destinations, if you are on a trip to Tamil Nadu. Reaching Madurai is not a problem, since the city is well connected by air, rail and road, to all the other important cities in and around Tamil Nadu. The city has its own airport that connects it to all the major cities of the South. There is also rail connectivity and extensive network of roads, with private operators plying to make your travel easy and comfortable. Read on to know more on how to reach the Madurai city of India.
Traveling to Madurai
By Air
Madurai houses its own airport, which is situated 10 km away from the city center. There are daily flights from Madurai to Chennai, Bangalore, Tiruchi and Coimbatore. From the airport, you can easily find taxis to take you inside the city, costing around Rs 200.
By Rail
Madurai, being an important pilgrimage site and the seat of Madurai Kamraj University, has a railways station of its own. In fact, the city serves as an important railway junction of the Southern Railway. It falls on the Madurai-Tiruchirappalli-Dindigul-Quilon route and is well connected with Chennai, Bangalore, Tiruchy, Palakkad and Tirunelveli.
By Road
Madurai is approximately 447 km from Chennai, 128 km from Tiruchirapalli, and 435 km from Bangalore There are excellent roads connecting Madurai to all the major cities in South India. With as many as 5 major bus stands, the city offers comfortable travel by road. Many private operators ply AC and non-AC deluxe and sleeper coaches from Chennai to Madurai. In case you plan to travel by car, take NH45 to Madurai, via Tindivanam, Trichy and Dindigul. An alternative route will take you to Trichy, via NH45. From there, take NH45B to Madurai, via Melur.