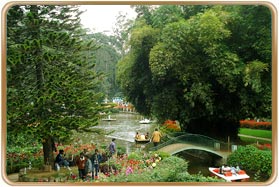 One of the most magnificent hill stations in South India, Coonoor is characterized by deep ravines, beautiful valleys and imposing waterfalls. Apart from this, it also boasts of exquisite range of birds, which adds a natural glory to this beautiful town. There are a number of sightseeing options within the city for tourists, on a visit to Coonoor. Apart from this, visitors can go on a tour to Ooty a famous hill station, located about 19 km northwest of Coonoor. To get detailed information on the tourist attraction places to see in Coonoor, browse through the following lines.
Places to See in Coonoor
Sim's Park
The Sim's Park is a famous landmark at Coonoor. The park is a botanical garden, spread over 12 hectares and has a collection of over 1,000 plant species that includes magnolia, tree ferns, pines and camellia. This park was developed partly in the Japanese style and is named after J. D. Sim, former secretary of the Madras Club. The annual fruit and vegetable show, held in May, is the main attraction of the botanical garden.
The Pasteur Institute
The Pasteur institute is another important attraction at Coonoor. It is situated near to the Sim's Park. The Pasteur institute specializes in the research for vaccines for rabies and polio. The institute is open for the visitors only on Saturdays. However, if you want to visit it on other days, you will have to seek prior permission of the Director of the Pasteur institute.
Pomological Station
The Pomological station is a research center of the State Agricultural Department for persimmon, pomegranates and apricot. It is one of the three experimental fruit gardens in the Nilgiri Hills. The other two research centers are Burliar and Kallar. A research center of repute, the Pomological Station carries research on different fruits, which are locally grown. Some of the prominent fruits of the area are apples, peaches, plums, persimmons, apricots, lemons and pomegranates.