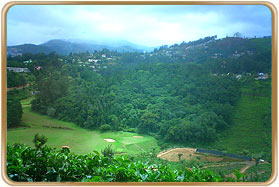 Min Temperature:
23°C (Summer), 10°C (Winter)
Max Temperature:
37°C (Summer), 20°C (Winter)
Best Time to Visit:
October to March
Located at an altitude of 1800 m, Coonoor is one of the most well known hill station in the Nilgiris in Tamil Nadu. The scenic beauty of the hill station is sure to appeal all kinds of tourist in Coonoor. To add to the picturesque beauty is that salubrious climate of the place. The weather in Coonoor is always pleasant and enjoyable. Coonoor experiences three distinct seasons - summer, winter and monsoon. The summer season starts from the month of March and lasts till May. Temperature during this period touches a high of 37°C and a low of 22°C. It is the most pleasant among all the other season and an ideal time to watch the picturesque grandeur of the place.
The coming of July marks the arrival of monsoon. Coonoor receives mild to medium rainfalls, which makes the climate humid. During this time, this picturesque hill station is replete with lush green sceneries. The monsoon gives way to the winters. December, January and February are the coldest months of the year. Temperature during this time lies somewhere between 10°C to 20°C. It is an ideal time for those who are fond of cooler temperatures. October to March is the best time to visit. It is also an ideal time for engaging in perfect for indoor and outdoor activities.
October to February is perfect for indoor and outdoor activities. To have complete relaxation of the mind and body, this season is ideal. This is best for honeymoon vacations.