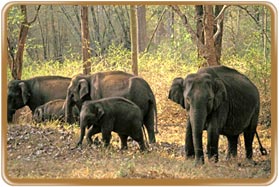 The Mudumalai Wildlife Sanctuary is located amidst the beautiful Nilgiri Hills. This is the point where the Western Ghats merge with the Eastern Ghats. The relief of the sanctuary is an interesting mix of plain, swamp, undulating parkland, open grassland, valleys and streams. There is a National Park measuring 103 sq km inside the sanctuary. The Mudumalai Wildlife sanctuary is home to a variety of vegetation. As a nature and wildlife lover, you will find the breathtaking surroundings of the sanctuary very appealing. The hilly terrain of the Western Ghats, with dense forests, adds to the attraction of the wildlife sanctuary. As you move on the Mysore-Ooty highway through the national Park, you will find yourself surrounded by nature all the way.
Fauna at the National Park
As you move inside the sanctuary, you can spot a variety of fauna life at the National Park. Some of important animal life at the wildlife sanctuary are Elephant, Macaque, Common langur, Gaur, Bonnet, Chital, Tigers and Leopards, Panther, Sloth Bear, Barking deer, Python, Otter, Four-Horned Antelope, Giant flying squirrel, Crocodile, Sambhar, Wild Dog, Hyena, Wild Boar, Spotted Deer, Jackal, Mouse Deer, Hare, Mongoose and Porcupine.
While exploring the wildlife sanctuary, you will come across a variety of bird life. Some of the birds that you can easily spot here at the sanctuary are the peacock, Gray jungle fowl, large racquet-tailed dronge, Malabar whistling thrush, spotted babbler, magpie-robin, green pigeons, small green barbet, Malabar Gray hornbill, little brown dove, mynahs and bulbuls. Besides the above mentioned varieties of birds, you can also spot a few birds of prey including eagles, buzzards, hawks, falcons, harriers and king vultures. You will be amazed to know that some migratory water birds also visit the wildlife sanctuary.
How to Reach Mudumalai Wildlife Sanctuary/National Park
Air
The nearest airport is at Coimbatore, 161 Km away.
Rail
The nearest railway station from the Park is Udhagamandalam (65 km) and Mysore (95 km).
Road
The nearest town from the Mudumalai National Park is Gudalur (16 km). The Mudumalai sanctuary is also accessible from Mysore (95 km). There are regular bus services from Udhagamandalam, Mysore and other neighboring towns.