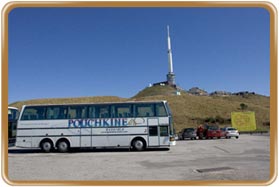 The Nilgiri Hills are pleasant tourist retreat, cool climate and vibrant greenery rolling down the hills offers a perfect escape from the daily hustle and bustle of urban life. These Blue Mountains are easily accessible and you could reach here by air, rail or road, whichever transportation modes suit you.
By Air
The nearest airport to the Nilgiris is in Coimbatore, about 105 km from Ooty. It has daily flights to and from Chennai, Bangalore, Cochin and Trivandrum. There are a number of private taxi services and buses plying between the points.
By Rail
Ooty falls on the narrow gauge railway line connected to Mettupalayam (47-km), which directly connects it to Coimbatore and Chennai. The major attraction of the place is the toy train i.e., the Nilgiri Mountain Railway (NMR) that connects Ooty with Mettupalayam and Coonoor.
By Road
Ooty is well connected to all the major towns and cities of South India. There are regular bus services connecting Coimbatore, Trichy, Bangalore, Madurai, Kanyakumari, Mysore, Palghat, Calicut, Tirupati and other important destinations in South India. Coonoor and Kotagiri are also well connected by road with the major cities and towns of the state. For local transportation, auto rickshaws and taxis are available.