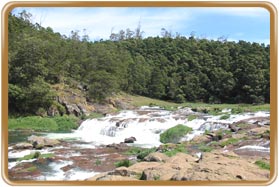 Ooty is tourists's delight, a hotspot for all those looking for complete fun and adventure. The place is studded with some of the breathtaking sites where you would love to spend your time. Book your excursions around Ooty and be a part of the excitement that is sure to sweep you off your feet. Some of the hot excursion sites are as below
The Mukurthi Peak & Mukurthi National Park
You can plan your excursion to Mukurthi Peak, which is 40 km from Ooty. The place has Mukurthi National Park on the Southeastern corner of the Nilgiri Plateau. This is home to a sizeable chunk of the endangered species of Nilgiri Tahr (Hamitragus hilocrius). The silent Valley is located on the Western side of these ranges. Fascinating feature of the Mukurthi Sanctuary is its close similarity to Himalayan Flora and Fauna.
Pykara
About 19 km from Ooty, Pykra is a dam and power plant. Exhibiting breathtaking natural scenery, with stunning waterfalls is the best visit during August to December. You could also book a forest house in the region and be a part of the nature. There is also a boathouse in the river that makes a hot tourist stopover. The region also boasts of well-protected fenced Sholas, Todas settlement, undisturbed grassy meadows and also a good wildlife habitat.
Madumalai Wildlife Sanctuary
Located at a distance of 67 km from Ooty, Madumalai Wildlife Sanctuary is based at an elevation of 1000 meters and extends over an area of 321 sq. km. You must add Madumalai to your weekend getaway when in Ooty, since the place is home to stunning flora and fauna. The wildlife includes Elephant, Gaur, Tiger, Panther, Sambar, Spotted Deer, Barking Deer, Mouse, Wild Boar, Parcupine etc. You can visit Theppakadu, and see the majestic elephants all around you.
Coonoor
A great picnic spot, Coonoor is 19 km away from Ooty and a must visit hill station at a lower altitude. Encircled with breathtaking beauty of tea and coffee plantations, Coonoor is famous for its Sims Park and several scenic spots, as also fruit orchards.
Kotagiri
Another hot tourist spot, Kotagiri is 29 km from Ooty. It is a beautiful hill resort with mesmerizing expanse of tea plantation. Quieter than Ooty and Coonoor, Kotagiri is for all such tourists who wish to spend their time in solitude and peace.