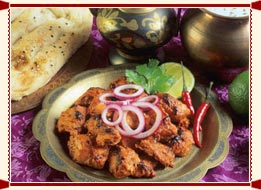 No talk on any culture can be rounded off without mentioning cuisines. Uttar Pradesh, the melting pot of cultures, too has its own set of cuisines that it boasts off. These cuisines find their source to the courts of various emperors and rulers who have ruled the sugarcane fields of Oudh and around. The origin of some of the dishes goes as back as the life and times of Lord Krishna. Therefore it is very natural that the state has quite a generous platter to offer to the visitors. And this also ensures that UP is one of the very few regions in India that has a generous platter for both vegetarians and non-vegetarians.
Broadly Uttar Pradesh is divided politically, geographically and by cuisines in to 3 distinct zones namely Western UP, Oudh and Eastern Utter Pradesh. The most illustrious region among these in terms of culture and cuisine is Oudh or Awadh as it is called sometimes. The Oudh region offers a range of option in terms of cuisines.
The most famous cuisines in Oudh are Kabobs, Biryani and Nihari. Due to Muslim dominance and influence on the culture and cuisine of this region, you will find that most of the items are meat based. Among the kabobs Shami and Galawati kabobs are the specialty of Lucknow and so are Kulcha-Nihari and Biryani. It should be kept in mind that the Biryani that is cooked in Oudh is quite different from its cousins of Hyderabad and Karachi in Pakistan. The Kanpur region brings Kakori and Boti kabobs. The most famous vegetarian dishes of this region are Tahri and Nargishi kofta. While the former is cooked with rice and lentils, the later has a generous dose of cheese, Khoya and saffron.
In the western Uttar Pradesh or Rampur region, the major delicacies are Rampuri Rohu and Zamindoz; both items of fish. It is quite interesting to know that these regions are hardly 200 kilometers apart but there is quite remarkable difference in the spices and hence tastes of dishes. The kabobs that are famous in Rampur region are Pasanda Kabob and Shab Deg. The most famous vegetarian dish of this region is Paneer Pasanda.
In the eastern Uttar Pradesh Tahri and Reshmi kabobs are very famous. Besides, Murg Musallam is another favorite dish of this region. Among the sweets, Mathura and Agra zone has clearly an edge. The Khurchan and Peda are some of the favored sweet items in Mathura region. Petha in nearby Agra is very popular all over India. The Shahi Tukda of Oudh region is very popular too. Among the drinks Lassi and Ruh-afza are the most favored one in Uttar Pradesh. No talk on cuisines can be rounded off without mentioning Paan of Benaras. Banarsi Paan is famous all over India for its taste and ingredients, which at times touch 50 in counts.