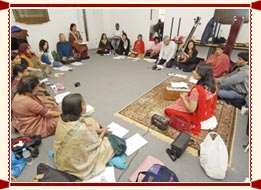 Thumri that is originated from Hindi word 'Thumakna' or 'Attractive Gait' is one of the most popular genres of semi classical Indian music in Uttar Pradesh. More often than none, the themes of Thumri are romantic and devotional in nature, and usually revolve around a girl's love for Lord Krishna. The language is a dialect of Hindi called Braj Bhasha. The content of sensuousness is the main emotive basis in Thumari. With keeping its unique character intact as a musical form Thumari has its own idiom, scholastic tradition, aesthetics and mannerisms, which are in many ways different than Khayal and Tappa that are very popular in Uttar Pradesh too.
Thumri style of singing is marked by a greater flexibility with the Ragas in comparison with it other cousins such as Tappa and Khayal. The Ragas that are predominantly used in a Thumri are Pilu, Kafi, Khamaj, Tilak Kamod and Bhairavi among scores of others. Most of the Thumri compositions are usually based on 'Kaherava' of 8 beats, Ardh-taal of 16 beats, 'Dipchandi' of 14 beats or 'Jaat' of 16 beats.
The popularity of Thumri in Uttar Pradesh precisely Awadh arose primarily during the 19th century. The greatest patron of this form was the then Nawab of Awadh, Nawab Wajid Ali Shah. It started its journey as a song sung by courtesans that was almost religiously accompanied by dance. This style, which was named 'Bandish ki Thumri', remained confined to Awadh Region only. Slowly, this style of Thumri was replaced by one ' Bol Banao ki Thumri' that originated and flourished around Benaras. This style of Thumri is still very popular and is sung strictly by the singers belonging to 'Purvaiya Ang' that comprises mostly singers from Eastern Uttar Pradesh and Bihar.
Some of the most famous exponents of this style of singing are Rasoolan Bai, Siddheshwari Devi, Girija Devi, Gauhar Jan, Begum Akhtar, Shobha Gurtu and Noor Jehan. This style of Thumri has a very slow Tempo that is concluded by a faster phase where the percussionists have some freedom of improvisations. With Tabla and the Tanpura, other typical instruments in Thumri are Sarangi and Harmonium.