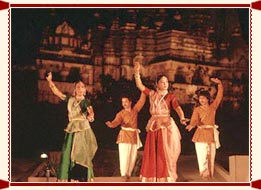 Kathak is one of the most versatile art forms in India. It will not be an aberration to say that Kathak is the most popular among all the classical as well as folk dance forms in India. The dance owes its origin to the state of Uttar Pradesh. It started its journey from the courts of Emperors and Nawabs of the then Awadh and has traversed a path that was full of turmoil to reach where it is i.e. in the hearts of the masses.
Kathak has the monopoly of courtesans and consorts in its early phase. This dance form was primarily developed for the amusement of royals that wanted a slight break from the pure classical dances. Therefore a dance form was born that was semi-classical in nature and was based on the Persian, Awadhi and Urdu poetry. This dance form saw volatile changes with the downfall of royalty in India. As Nawabs and emperors started fighting for survival, the patronage became a problem. Artists and exponents of this art started looking outwards. The middle class resisted the move as it saw Kathak as something immoral and considered its artists as prostitutes. Nevertheless due to constant efforts and perseverance of its artists, the art form got a place among the masses. Since then, Kathak has never looked back.
Talking of technicality, this north Indian dance form is inextricably bound with classical Hindustani music where the rhythmic nimbleness of the feet is accompanied by the Tabla or Pakhawaj. Traditionally the stories were of Radha and Krishna, in the Natwari style but it changed in the era of Mogul. The dance was taken to courts and thus it became more entertaining and less religious in content. More emphasis was laid on 'Nritya', the pure dance aspect and less on ' Abhinaya' or expression and acting.
Some of the famous exponents of Kathak were born in Uttar Pradesh such as Thakur Prasad, Lacchu Maharaj, Sambhu Mahraj, Birju Maharaj and Sitara Devi.