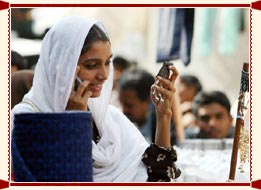 General transportations in Uttar Pradesh are Auto rickshaw and Buses because these are the good means to get around. Auto rickshaw is a cheap mode of transportation but drivers might not be friendly all the times. It is recommended to take rickshaw when you take congested roads, such as Old town of Benaras, Lucknow and Kanpur in order to avoid jams.
Telephones in Uttar Pradesh
UP is well connected to all over India and world through its network of STD and ISD services. The charges are as per the government norms and networks are generally congestion free. Cellular services too are available in UP with more than 10 players in the market including the government owned and operated BSNL service. Two different modes are available for service namely CDMA and GSM. We suggest GSM service because you can make use of your existing cellular set.
Internet in Uttar Pradesh
Utter Pradesh has good Internet facility with private cyber café in nearly every nook and corner of the major as well as minor cities. Nearly all high-end and budget hotels provide Internet facilities in the room itself. It has both dials up as well as broadband Internet facility with the fastest one going as high as 10 mbps. Going by the latest government directive, you will be required to prove your identity to the café owner before availing the Internet facility. This guideline has been issued in pretext of global terror threats.
Newspapers and Magazines in Uttar Pradesh
All the major newspapers and magazines published in India are available in Uttar Pradesh. Many of these are vernacular but a lot of them are in English too. Newspapers in other language such as Hebrew, Spanish as well as French can be made available on request, in high-end hotels.