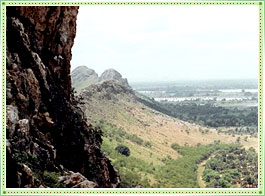 Pragbodhi is the place where Lord Buddha spent some time before attaining enlightenment. The place is evidence of Gautam Buddha's efforts toward the eternal truth. He practiced asceticism for the purpose but without any avail, as truth was not in giving pain to body and mind, the truth he himself realized. Pragbodhi Mountain is situated near Gaya district in the state of Bihar. The literal meaning of word 'Pragbodhi' is 'prior to Enlightenment,' and the place indicates exactly the same fact.
Historical evidence shows that Gautam Buddha stayed here for six years doing meditation and other activities in search of truth. His belief was that through asceticism one can find truth, though after some time he realized that the approach was wrong. When he realized the truth, he became Buddha - the enlightened one. Historical developments have led to change of the name of the mountain and now it is called Dhungeswara. The Buddhist literature reveals that Lord Buddha stayed in a small cave, half way up this mountain and practiced severe asceticism for six years.
The spot where Lord Buddha did meditation for six long years has a temple now. Other than the temple, there are many stupas atop the mountain. Though these stupas are in a state of ruins, they are evidence of the fact of the Buddhist religion and culture of the region. You can climb to the top of the mountain and have a breathtaking view of Mahabodhi Temple from there. The overview from the top of the mountain will leave you mesmerized. The calm and tranquility of the place has must have been the reason behind the selection of place for meditation by Siddhartha.
You can reach this place from old Gaya. From Gaya you can board a bus and get down at Kiriyama village. After getting down at Kirvama village you have to cross Neranjara and Mohana Rivers to reach the mountain.